FMS/ROCHOBBY introduces the 1/10 Mashigan, which is the FIRST 1/10 scale Crawler from FMS.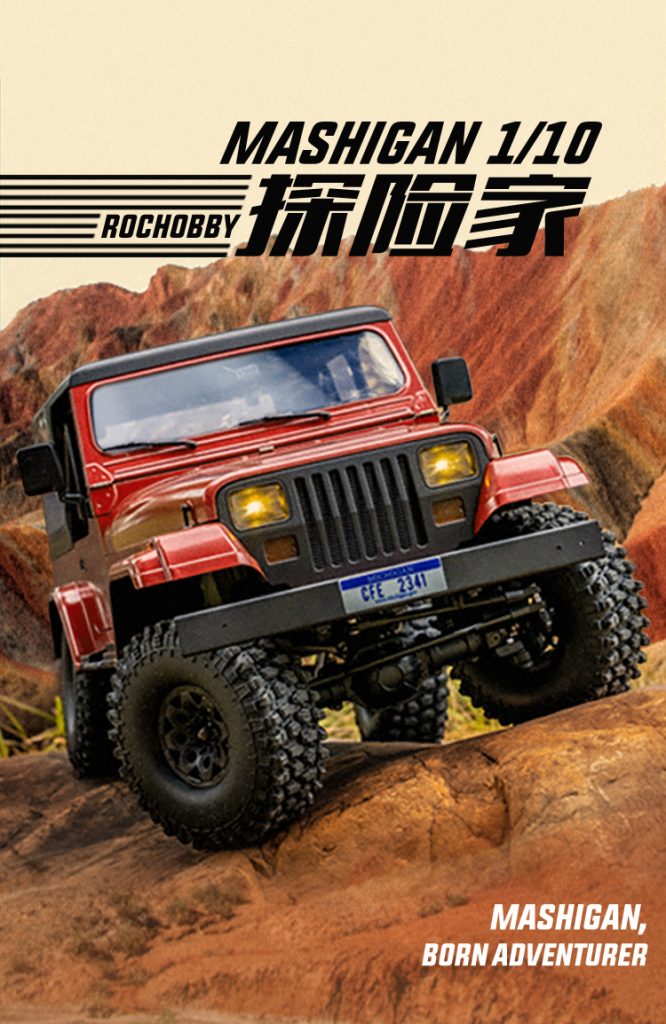 For adventurers, the road ahead is always rough and full of thorns, but whether there is a road or no road, this 1/10 Mashigan's 1.9 inch climbing tires can give you confidence, and meanwhile, the four-link suspension system gives you a guarantee of strong power, the metal trapezoidal beams provide you with a solid supportive structure. Even with a hard plastic car shell with a complete interior, Mashigan can easily overcome extreme road conditions. The real first-generation model uses leaf spring suspension, and adventurers will not ignore the history, the chassis can be installed with leaf spring suspension (sold separately) to restore the style of the first generation model. Pursuing the needs of climbing performance and restoration seems to be impossible, but through the compatible design of the chassis and the replacement of a few accessories, it can show a completely different shape. Two postures, and double the fun.
The exquisite interior and four-door full-opening design double the level of detail of this hard-shell RC model, which can be viewed statically or operated indoors. With climbing-level sturdy chassis and suspension system, FMS 1:10 Mashigan make it cool to go wild!

Features:
READY SET
BALL BEARINGS FULL SET
POLYSTYRENE BODY
NICE PAINTED BODY
HOOD CAN BE OPENED
BOTH SIDE DOORS CAN BE OPENED
TAILGATE CAN BE OPENED
SUPER EXQUISITE INTERIOR
SOFT RUBBER SEAT
NYLON ROLL CAGE
STEEL C-CHANNEL FRAME
FOUR LINK SUSPENSION
LEAF SPRING SUSPENSION(SOLD SEPARATELY)
1.9-inch AT TIRE
35t 550 MOTOR
What's in the box:
1 x 1:10 Mashigan RS
1 x 2.4GHz Radio
1 x 2-in-1 Receiver / 40A ESC (installed)
1 x 550 Brushed Motor (installed)
1 x 9g Plastic Digital Servo (installed)
1 x 15kg Metal Digital Servo(installed)
1 x Product Manual
Specification:
Radio Control: 160 x 193 x 97mm, 221g (Battery not Included)
Model Vehicle: 546 x 274 x 282mm, 4kg (Battery not Included)
Tire: D:115mm, W:30mm
Wheel Base: 330mm
Ground Clearance: 82mm
Approach Angle: 68°
Departure Angle: 47°
Driving Speed: 15km/h Max
Remote Distance: 80m
Play Time: 20 minute