Introducing the all-new, extra-large Asuga XLR 6S RTR Buggy from Team Corally. This unique vehicle is 15% larger than traditional 1/8 buggies and delivers a driving experience like no other car available today!
Developed with a laser-focus on the smallest of details, the Asuga XLR is precision-engineered to satisfy its owners with the fastest, most durable, and best-handling RC buggy ever produced.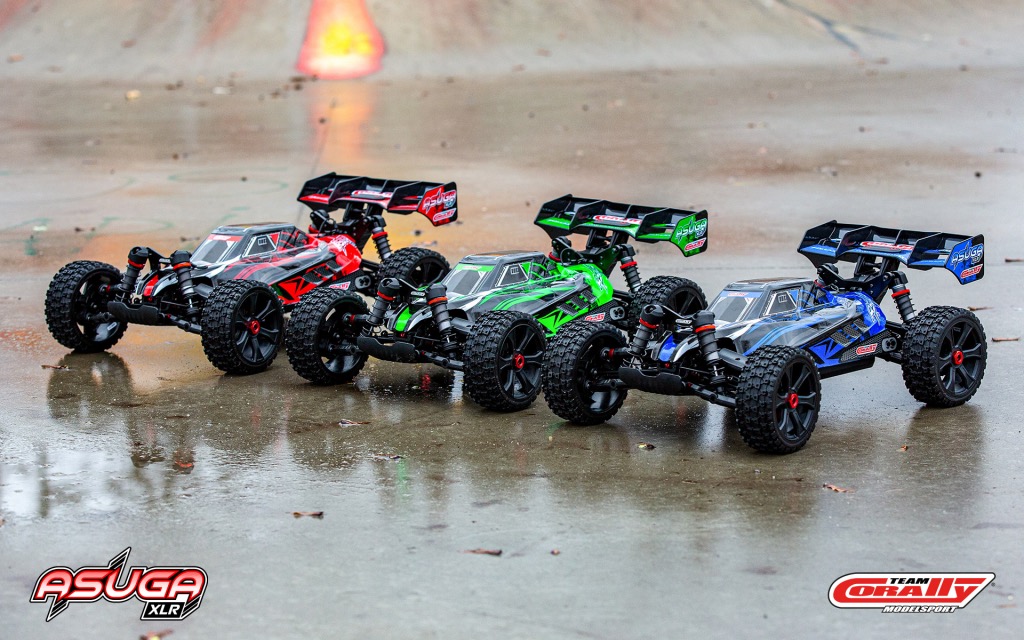 As an added bonus, the Asuga XLR RTR is available in three body color choices and is offered in both ready to run and rolling chassis versions, this model is destined to reset expectations of what is possible!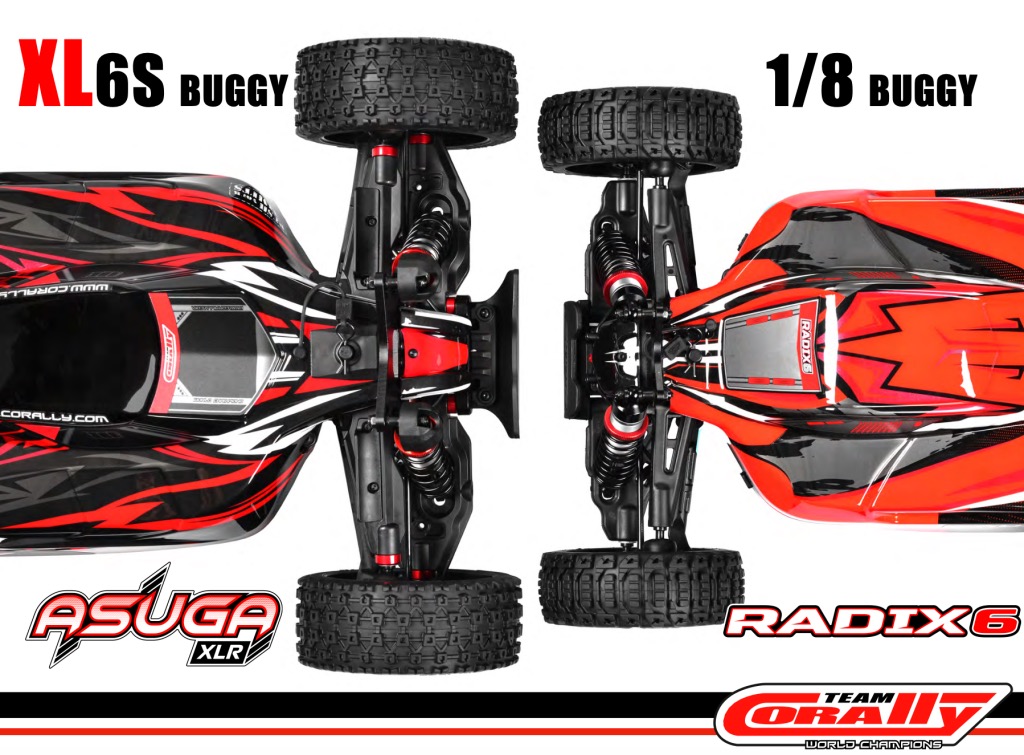 Bigger is better! Larger in size than other models, the Asuga XLR delivers increased ground clearance, massive suspension travel and oversized components on a completely new chassis that uses the proven, durable, and 6S-capable drive train system that Team Corally 1/8 scale models have been noted for.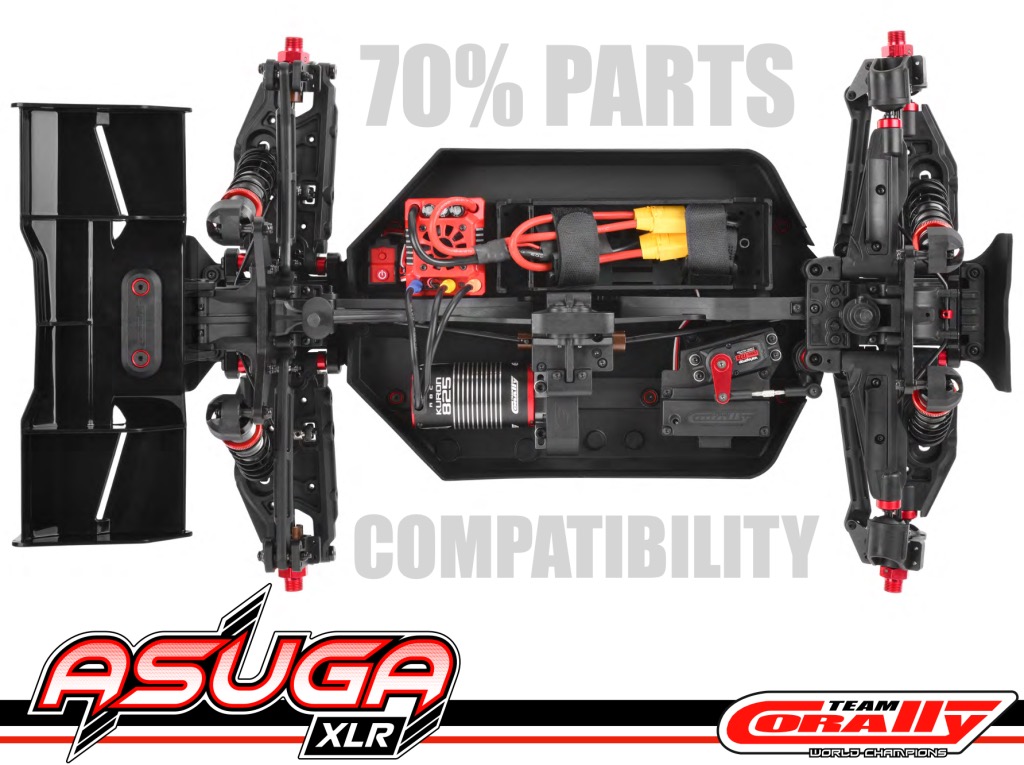 When exploring just a few of the details that make the Asuga XLR unique, it becomes evident that this is no ordinary buggy:
-70% parts compatibility with existing Team Corally 1/8 scale models
-Massive, 3mm thick aluminum main chassis plate with protective side guards
-Ultra rigid hybrid central chassis brace system
-CNC-machined adjustable aluminum motor mount with aluminum and steel center diff assembly
-Massive 16mm big bore, threaded aluminum, oil-filled shocks with hard springs, heavy-duty 4mm tuned pistons, and oversized lower shock ends.
-5mm thick, CNC-machined aluminum front and rear shock towers
-Massive heavy-duty composite suspension arms, with aluminum hinge pin and pivot ball retainers for impressive durability. The front upper arms feature a unique aero control kit for additional downforce and improved steering response.
-Extreme 8mm-thick aluminum suspension pin holders secured by eight 4mm mounting screws include adjustable composite toe-in blocks.
-Large, heavy duty composite steering blocks with new pillow ball securement features
-Oversized composite rear hubs
-Durable composite steering and upper-camber links
-Three fluid-filled precision differentials with CNC spiral-cut metal input and main gears
-Durable, hardened S2 steel drive joints and axles
-Rubber sealed ABEC-3 ball bearings
-Chassis skid plates with integrated modern front bumper
-Low-profile 130mm Sprint RXA high-grip tires designed for 6S power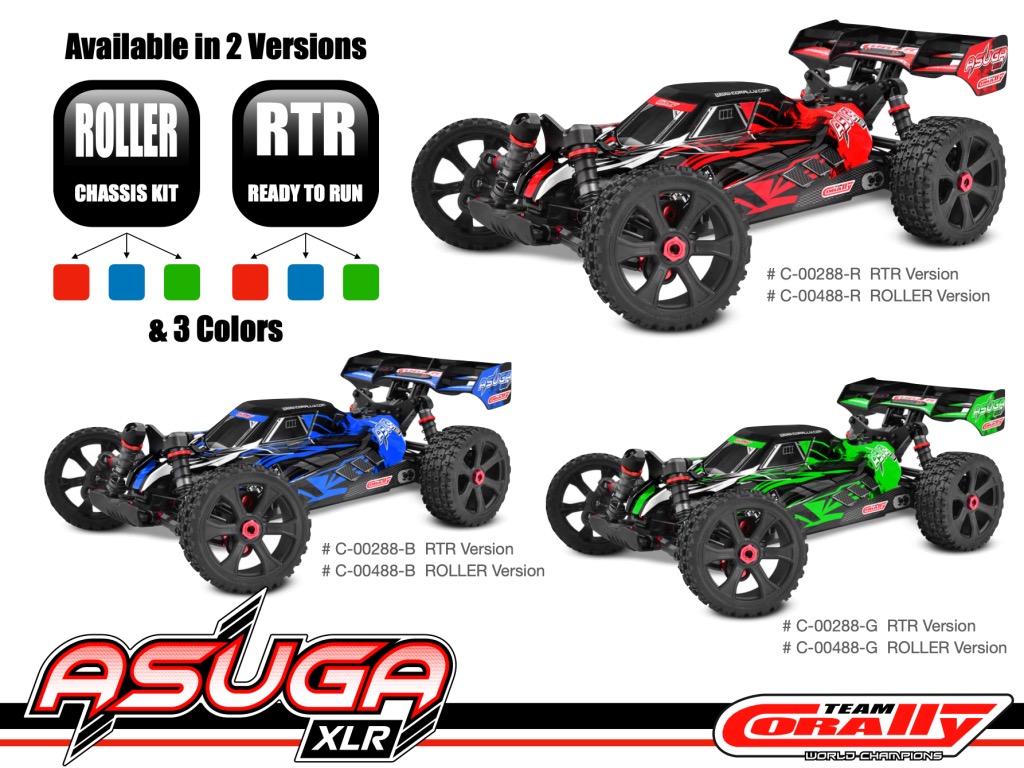 The RTR version of this model includes high performance Team Corally electronics such as:
-The proven CT2R pistol grip 2.4 GHz transmitter and receiver
-The powerful Kuron 825 4-pole, 2050kv sensorless brushless motor
-A smooth and reliable 6S-capable Torox 185 Electronic Speed Control
-An HV7225 digital high-speed steering servo with metal gears and a whopping 25Kg of torque.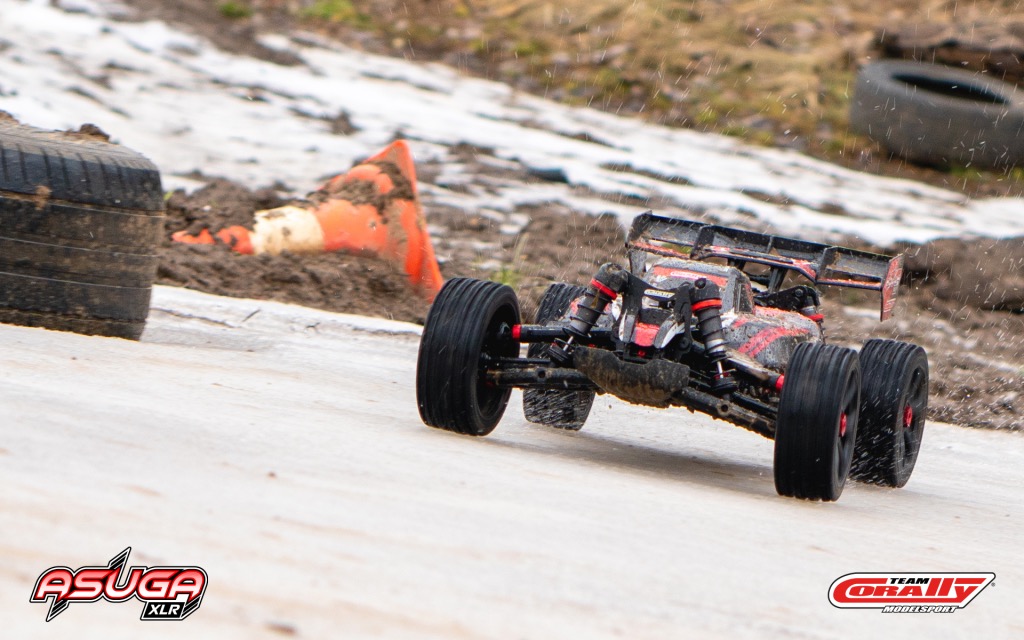 Larger than in size than other models with additional ground clearance, massive suspension travel, and oversized components, the Asuga XLR is a completely new chassis that employ the proven drive components of existing Team Corally 6S-powered models. The impressive size of the Asuga XLR delivers razor-sharp handling, amazing acceleration, top-speed, and unsurpassed durability. Reset your expectations and go big with Team Corally's Asuga XLR RTR.